WARNING:

The European Commission support for the production of this publication does not constitute endorsement of the contents which reflects the views only of the authors, and the Commission cannot be held responsible for any use which may be made of the information contained therein.
As unfortunate as it is, we have all grown too accustomed to reading something or hearing something on the news and automatically believing it to be true, without any further research or fact-checking. Due to this, a majority of people have created a stereotypical assumption in their minds about certain groups of people, whether it be based on religion, ethnicity, skin color, etc. all due to the way the media portrays them. One group in particular, migrants and refugees, have been at the forefront of media shaming not only here in the Western Balkans, but across the whole world due to the negativity portrayed in the media but, what about the positivity that comes with these human beings? Have we all forgotten that these are human beings too, forced to leave their home nations due to war, poverty, lack of opportunities, etc.? Who are we to look at migrants and refugees in a different light, when they are simply trying to survive? This article will not include negative stories like the media portrays about migrants and refugees, rather positive stories that many do not know about as the media chooses not the present them due to their own interests, due to political interests, and due to the fact that shaming has become too popular in this day and age just to implement a negative connotation to a specific group of people.
As of March 2021, there are an estimated 10,000 migrants in Bosnia and Herzegovina (BiH), with the majority staying in government-run camps, coming from various countries in search of a better life further in Europe (INFOMIGRANTS). We want to shed light on the positive stories of the migrants here in BiH and although these stories may not all be success stories, they will at least be able to provide some hope and positive reinforcement to those who have been swayed by local and national media to think otherwise.
The first story we would like to share with you all is the story of Mamadu, a young boy from Guinea who was taken in by the Karabegović family in Maglaj. This story touched our hearts and we came to learn about it through a Facebook group titled "Pomoc izbjeglicama u BiH/Help for refugees in Bosnia and Herzegovina". We strongly recommend everyone interested to join this Facebook group (linked above) as it provides daily information on migrants looking for help, information, or just a kind soul to talk with. On the right is the Facebook post with the caption translated.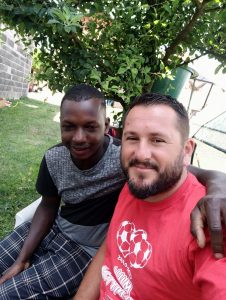 "Od danas je Mamadu član moje porodice dok mu se ne otvore putevi ka konačnom cilju." "As of today, Mamadu is a member of my family until the paths to his final goal are opened." Posted by: Miralem Karabegović (July 15th, 2021)
This story above gives us hope not only for our fellow citizens in BiH, but rather worldwide as migrants and refugees are being deliberately stuck in our nation with no one to turn to and everyone willing and able should follow Miralem's generosity and humanity. It must be remembered that migration is not a crime and it shocks us when we see or read the negativity towards migrants as no one stops to think about how life would be in their shoes at this very moment.
The following story is of Mohammad Diouf, a 26-year-old immigrant from Senegal who jumped into the Nervion River in Bilbao, Spain to save a 72-year-old man who was drowning. Without thinking twice, Mohammad jumped into the river and saved the elderly man who was suffering from medical complications and ultimately saved his life. Without Mohammad's quick thinking and life-saving actions, who knows if someone else would have jumped in or if it would have been just a few seconds too late? The picture below shows the ordeal as it was caught on videotape by bystanders.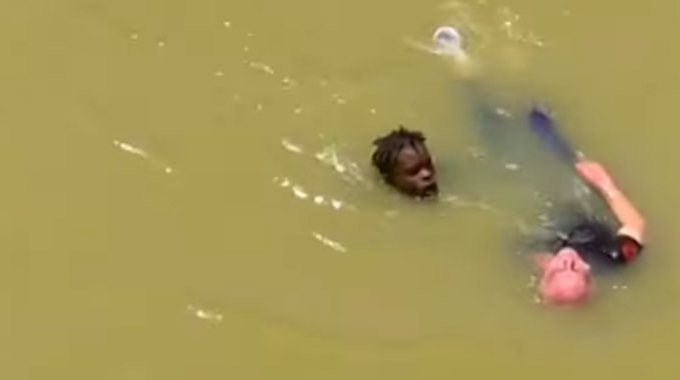 You see, these are the situations that tend to confuse us as if we turn the story around and say that an African-American immigrant was drowning in the water, would a Spanish citizen jump in and risk their life to save them? Would this be the case in BiH, Montenegro, Serbia, as well as in other countries?
There are endless stories about how migrants and refugees have saved the lives of those in the countries they are currently stuck in and what we wish for here at SLAM, is that people remember these stories and live their lives accordingly, taking all of the positivity into consideration before automatically assuming the worst, as in most cases, this is not the truth.
At the end it becomes tremendously important to ask as well: Why do migrants need to remind us with their brave acts that they are not a threat, but just as human as we are? Why do we mostly need to see others' kindness towards such groups in order to trigger ours?
Understanding our so common social failure to recognize the obvious humanity that lies behind the vulnerability migrants showcase each day – it becomes crucial to realize the process of reminding about their humanity through non-example related articles as well. In order not to subtly teach society that Mohammad Diouf must jump into the river if he wants to gain his human title back, the media has to do more. Previously mentioned articles are so important – but cannot do the fight alone.
Guardian emphasizes even in 2015 that growing dehumanization has to be stopped, while actual life stories like: "Hope for a Fresh Start" and "Family First for a Father of Seven" about Somalian migrants, or "Migration, Kidnap, Relief: Aminas Story" about a mother that fled Yemen – published by the International Organisation for Migration with accompanying pictures seek to awaken that much needed social empathy. Any yes, these stories do not fit our idea of positive – but the impact they make – surely will.  
References:
Family first for a father of seven. International Organization for Migration. (2019, June 17). https://www.iom.int/migrant-stories/family-first-father-seven.
Guardian News and Media. (2015, August 28).Refugees are human. this simple fact seems to have been forgotten | owen jones. The Guardian. https://www.theguardian.com/commentisfree/2015/aug/28/migrants-humans-drowning-suffocating-safety-statistics. 
(2021, June 27).Senegalese immigrant saves stranger from drowning in Spanish river. YouTube. https://www.youtube.com/watch?v=ouwZsOAJYR0. 
Hope for a fresh start. International Organization for Migration. (2019, August 21). https://www.iom.int/migrant-stories/hope-fresh-start.
Migration, kidnap, RELIEF: Amina's Story. International Organization for Migration. (2015, December 22). https://www.iom.int/migrant-stories/migration-kidnap-relief-aminas-story.
Miralem Karabegović Post. Facebook. (n.d.). https://www.facebook.com/photo/?fbid=5771888596186073&set=a.755093131199003.
Authors: Ezana Ćeman & Amina Hasović
Illustration: Ezana Ćeman