It is believed that Sinop, lying at the northernmost tip of a peninsula extending from the Anatolian landmass into the Black Sea, derived its name from the Queen of the Amazons, Sinope, who lived there once upon a time. According to another story, Zeus, the King of Gods was so enchanted by the beauty of the nymph Sinope, the daughter of the River God Asopus that he settled her in the earthly locale commensurate with her beauty and the city was named after her.
Sinop owes its diverse cultural richness to its beautiful natural harbour-perfectly sheltered and calm, a haven from the tempestuous Black Sea. The strategic importance of Sinop Harbour brought Sinop to the fore as a centre of trade across millennia. The city's strategic importance, however, led to successive conquests, and each civilization that made Sinop its own adorned the city according to its own fashion, building fortresses, churches, temples, and mosques and its various quarters.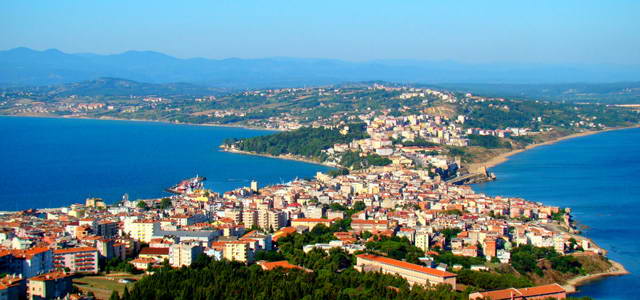 The cultural richness of Sinop is so extensive that almost each historical building has the marks of more than one civilisation. Foremost of them all is Sinop Fortress, which has provided diverse services to various civilisations during its four millennia of history. The walls of the fortress demarcate the initial area of settlement, and bear the marks of all the civilisations that have passed through the city. The fortress served primarily for defensive purposes, and during the reign of the Seljuk Sultans, a citadel was added. The builders of the citadel reused the ruins of antique structures, incorporating a fascinating tapestry of columns and capitals into the new walls. The Ottoman Sultans used the citadel as a shipyard, building the most powerful man-of-war of the era. In 1887 the citadel was converted into a dungeon. The external walls and the sea lying beyond secured the prison against escape attempts. About the same time a public bathhouse (hamam) was added to meet changing needs. As in the Ottoman Period, the citadel was used as a prison also during the early years of the Republic. It is now open to visitors and hosts cultural activities.